Hiking in the National Park, Tennessee
Hiking in the Smoky Mountains is one of the greatest pleasures of visiting this area. The Smoky Mountain trails are so vast that one could hike for years and never walk all 900-plus miles. Smoky Mountain hiking is a beloved pastime for many local residents. Any out-of-towner on the trail is likely to run into a local, if they run into anyone at all.
Probably the most recognized trail in the Smokies is the Appalachian Trail. This 2160-mile trek runs from Georgia to Maine. Many of the Smoky Mountain park trails either cross the Appalachian Trail or follow it for a few miles. One of the shorter Smoky Mountain hiking trails is the Abram Falls Trail. Located in Cades Cove, it is a moderate 2.5 mile (5 mile round trip) trail leading to Abrams Falls, a beautiful 20 ft. waterfall with a large swimming hole at its base. Perfect for a picnic and swimming in the summer months!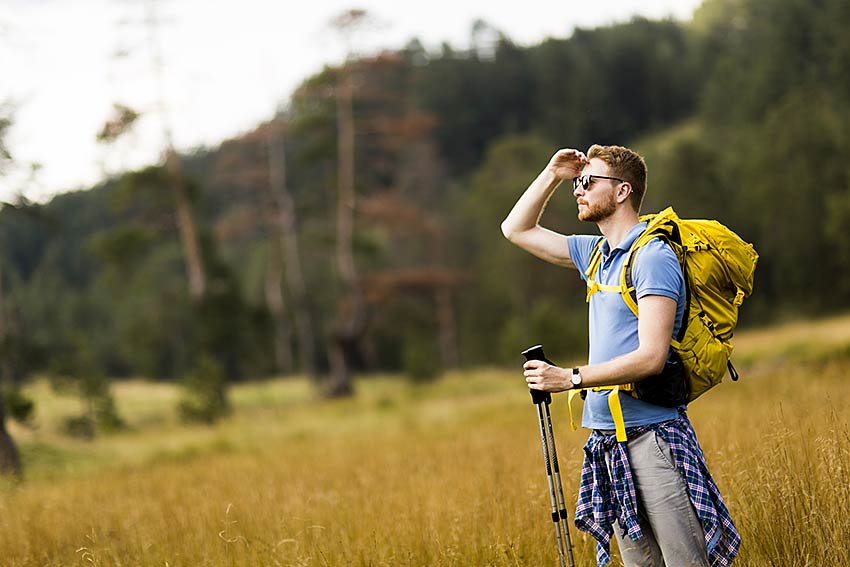 Another easy-to-moderate trail is the Albright Grove Trail outside of Cosby. This loop trail is 3.5 miles one way and passes through one of the most stately and largest stands of virgin poplar in the Southeastern region. A slightly longer trail is the Alum Cave Bluffs Trail. This trail is a short 5.5 mile trail (round trip) and ends at a 100 foot bluff rather than a cave. Rumor marks that the bluff as a source of saltpeter for Civil War gunpowder. Continue another 2.9 miles past the bluff and visit Mount LeConte, one of the highest mountains in the Smokies, with stunning, scenic views. A number of different trails lead to Mt. LeConte although the shortest one is the Alum Cave Bluff Trail.
The shortest trail might be to Clingmans Dome. It's only a steep half mile to this observation tower, though it leads to the highest point in the Great Smoky Mountain National Park. Clingmans Dome is one of the most popular park destinations.
How about a longer day hike? The Sugarland Mountain Trail is 11 miles one way. It's a slightly strenuous hike, but not very steep, and features several gorgeous views while winding through the different types of forests in the park. Smoky Mountain hiking trails offer something for everyone.