Sevierville TN Hotels and Motels
Staying in the Smoky Mountains on vacation should be on everyones list. But its deciding on where to stay is much harder. Sevierville, TN hotels offer convenient locations near outlet shopping, Smokies baseball park, and other area attractions. Sevierville is the first stop in from interstate 40.
One advantage to staying in Sevierville is a shorter drive to your lodging when arriving and quicker access to I-40 when you are ready to leave. It can take hours to reach Pigeon Forge and Gatlinburg during peak times on Friday and just as long to leave on Sundays. During your stay, traffic going into and coming out of Pigeon Forge should be much lighter.
Hotels are a great choice for vacations. You know what to expect from the big name chains, so no surprises. They are also less expensive than condos or cabins. So book a hotel in Sevierville on your next vacation to the Smoky Mountains. Learn more about Smoky Mountain hotel/motels in Pigeon Forge and Gatlinburg
Comfort Inn & Suites at Dollywood Lane
3712 Parkway, Pigeon Forge, TN, 37863
Quality Inn & Suites at Dollywood Lane
3756 Parkway, Pigeon Forge, TN, 37863
My Pigeon Forge Vacation
Pigeon Forge, TN
The Resort at Governor's Crossing
225 Collier Drive, Sevierville, Tennessee 37862
Creekstone Inn
4034 South River Road, Pigeon Forge, Tennessee 37863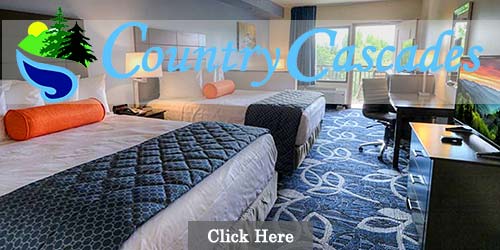 Country Cascades Waterpark Resort
204 Sharon Drive, Pigeon Forge, TN
The Lodge at Five Oaks
1650 Parkway, Sevierville, TN 37862
Tennessee Mountain Lodge
3571 Parkway, Pigeon Forge, Tennessee 37863
Accommodations by Willow Brook Lodge
Accommodations by Willow Brook Lodge offers you the finest in Pigeon Forge accommodations and lodging. With over 156 tastefully appointed guest rooms, suites and luxury condos available, we feature a resort atmosphere in the center of town. Nearby are favorite attractions such as The Great Smoky Mountains National Park, Dollywood, Dolly Parton's Stampede, WonderWorks, Titanic and The Old Mill to name just a few.
Island Drive Lodge
Located just across from The Island complex and the shopping and attractions. Many amenities including microwave, refrigerator, cable TV and more.
Days Inn Smoky Mountain
3402 Winfield Dunn Parkway, Kodak, TN 37764
Comfort Inn Apple Valley
1850 Parkway, Sevierville, TN 37862