6 Cool Things For Kids To Do In The Smokies
Posted by Darryl Payne in Things To Do
We all know that visiting the Great Smoky Mountains is fun for all ages. There are cool activities and attractions where moms, dads, kids and grandparents can all get in on the good times together. But sometimes, the young 'uns don't always appreciate the same things we grownups do. Sometimes, when you're on vacation, it's worth it to visit places that offer experiences that are either specifically designed for kids or, at the very least, offer things kids think are cool and fun.
With that in mind, we'd like to suggest 6 places to go and things to do in the Great Smoky Mountains that members of the younger set are sure to walk away from with a big thumbs-up for mom and dad.
WonderWorks
This Pigeon Forge attraction offers 35,000 square feet of what they call "edutainment." That is, the interactive experience inside is lots of fun and, even if they don't intend to, kids might actually learn something in the process (but you don't have to tell them that). The WonderWorks building looks like a museum with giant columns that was somehow lifted from the ground and dropped in an upside-down position. Inside, guests make their way through the attraction's six different Discovery Zones: Extreme Weather, Physical Challenge, Space Discovery, Light & Sound, Imagination Lab and Wonder Art Gallery. Inside each zone is a collection of interactive exhibits that let kids get hands-on in learning about the physical world on this planet and beyond. Exhibits include earthquake and hurricane simulators, a bed of nails to lie on, an astronaut training challenge and an interactive sandbox. In addition to the Discovery Zones, WonderWorks has an indoor ropes course, a 4-D simulator ride and a laser tag arena.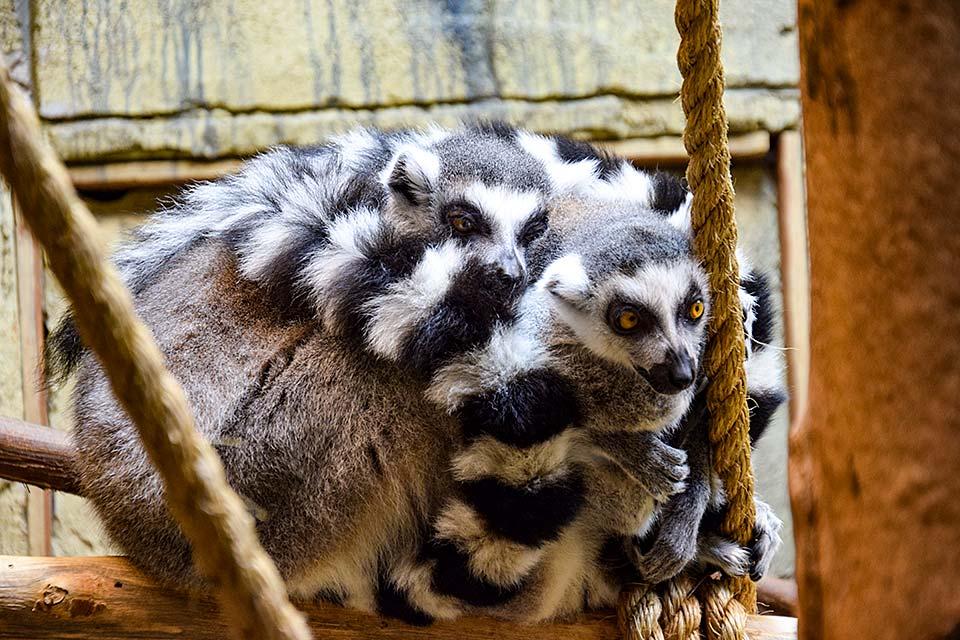 Rainforest Adventures Discovery Zoo
Kids love animals, and at this Sevierville animal attraction, little ones can get close to some of the world's most exotic species of reptiles, mammals, birds, bugs and amphibians. In all, the zoo houses more than 600 live animals, representing more than 130 species from around the globe. It's a self-guided tour, but from time to time, staff members will bring some of the residents out to meet guests and, in some cases, allow hands-on contact. It's an educational experience, and the collection of critters inside ranges from the cute to the creepy. Look for snakes, crocodiles, lemurs, hedgehogs, parrots, tarantulas, cockroaches, bullfrogs and many more species.
Ripley's Aquarium of the Smokies
We can't mention land and air creatures without covering our ocean-dwelling friends as well. The best place to do that is at this world-class aquarium in downtown Gatlinburg. For two decades now, Ripley's Aquarium of the Smokies has been inviting guests inside for a fascinating look at amazing undersea creatures hailing from all the world's oceans. The aquarium's tour is also self-guided, and each themed area introduces you to different types of saltwater (primarily) creatures. Highlights include Shark Lagoon, Touch-A-Ray Bay, Tropical Rainforest, Coral Reef and Stingray Bay. You'll see many varieties of colorful fish as well as squids and octopuses, stingrays, penguins and, yes, sharks of all kinds. The aquarium's underwater tunnel allows you to actually walk underneath the surface of Shark Lagoon. The tunnel's see-through walls put you smack in the middle of the lagoon, surrounded on all sides and above by sharks gliding by just feet away.
Dollywood
Known as one of the premier theme parks in the Southeast, Dollywood in Pigeon Forge is indeed a place where all ages can have a big day or two of fun. There are tons of rides, attractions and shows for everyone to enjoy, but some areas of Dollywood are geared specifically toward younger kids. The Country Fair section of the park has lots of pint-sized rides that they don't have to be "this tall" to ride. There are animal-themed rides, bumper cars, a Ferris wheel, a junior coaster, a pint-sized drop ride, a swing ride and much more. Dollywood also has cool play areas in many other sections of the park, each full of adventure- and nature-themed activities for even the youngest of park visitors to take advantage of. During summer, Dollywood's Splash Country, adjacent to the theme park, has tamer water slides for younger children as well as splash zones, a wave pool and a lazy river attraction.
Parkway Amusement Centers
Yeah, it's good if an attraction can be educational and fun at the same time, but don't underestimate the value of purely mindless fun either. And believe us, Gatlinburg, Pigeon Forge and Sevierville have all that covered too. Each city has a number of different amusement centers, each of which offers a variety of experiences that kids will love. The activities vary from place to place, but examples of what you'll find include bungee towers, slingshot rides, go-carts, bumper cars, miniature golf, laser tag, ropes courses, trampolines, climbing walls, bumper boats, simulator rides, mountain coasters and more. You're also very likely to find arcades at these places too, so be prepared.
Anakeesta
This mountain attraction overlooking downtown Gatlinburg has a number of activities that emphasize outdoor experiences. Among them is a tree-based skywalk, which is the longest in North America. It features 880 feet of hanging suspension bridges that are 50 to 60 feet in the air. There's also a treehouse adventure course where kids can climb, swing, crawl and slide their way through three different levels. Six netted bridges and three treehouses are highlights of the attraction. Bearventure is an interactive play course, and the Treehouse Village Adventure has physical and educational elements that will let kids' imaginations run wild while building strength and confidence.
Other blog categories:
Gatlinburg Attractions Gatlinburg, TN Golf Courses Local Events National Park Outdoor Adventure Outdoor Things To Do Pigeon Forge Attractions Pigeon Forge, TN Places to Stay Sevierville Attractions Sevierville, TN Smoky Mountain Cabins Smoky Mountain Shows Smoky Mountains Things To Do