Ober Gatlinburg Ski Resort Adds A New Slope: Yeti's Run
Posted by Darryl Payne in Gatlinburg, TN
They wait for it all spring and summer. As the warm temperatures begin to cool, the anticipation can be seen and felt. Their feet get antsy and strange cravings overtake them to put on down-filled clothing and compression wear. They are the hardcore ski enthusiasts of the world.
This year, these winter sports buffs will have something new and exciting to carry them through what is already bound to be a best-yet season. Ober Gatlinburg ski resort has added a brand-new slope called Yeti's Run.
Ober Gatlinburg explains, "The advanced rated slope will split off to the east from the top of the Black Lift, taking skiers and snowboarders down a 635-foot run that is 45 feet wide. The new run adds more options as it reconnects skiers and riders with their choice of Mogul Ridge, Grizzly or Upper Bear Run. This slope has 100% snowmaking capabilities and will be equipped with lights for night skiing and snowboarding."
And it's a long time coming! This is the first new slope Ober Gatlinburg has added in 27 years when it debuted Mogul Ridge. Needless to say, the buzz has been quite large.
Hosting a naming contest on social media and through email, Ober Gatlinburg fans suggested 472 ideas for the new slope. Yeti's Run beat out White Tail Run, Rattlesnake Ridge and Park Line.
How does Yeti's Run compare to the other two advanced slopes at Ober Gatlinburg? According to John Cossaboom, Winter Sports Director, "It is rated as Black Diamond, but it's not as difficult as Mogul Ridge or Grizzly. Based on the look of it, I'd say anyone who is a strong novice could handle Yeti's Run."
While the country waits for this new slope to be unveiled, Ober Gatlinburg waits on Mother Nature. John explains that Ober Gatlinburg starts at the bottom of the mountain first when making snow. They then move to the middle and finally the summit. While John can guarantee Yeti's Run will open this season, he can't give a specific date. Because Ober Gatlinburg has a practice of making sure the underlying slope is in good shape prior to laying on the snow, and because no one can predict the weather, the date for starting snowmaking at the top of the mountain is anybody's guess.
You may wonder why, after all these years, Ober Gatlinburg has decided to add a new trail. John explains, "We have been thinking about this for a while. Finally, we had our snowmaking to a point where we could expand that system. We had a great season last year so we also had the money to add a new slope."
7 Easy And Mid-Range Slopes
Novice and intermediate skiers have a lot to appreciate about Ober Gatlinburg as well. Whether this is your first time skiing or you have established your snow legs, you'll find plenty to enjoy.
Ski School, which is a teaching area with a rope lift, and Cub Way both provide gentle inclines that give newbies a safe place to practice. Castle Run, Upper Bear, Lower Bear, Ober Chute and Alpine Way give longer runs with steeper verticals (except Lower Bear) for a variety of difficulty levels, moguls and other challenges.
Fun For Non-Skiers, Too!
What if you, or the people you're traveling with, don't ski? Ober has you covered, too.
Snowboarding
With trails, rails, tabletops and boxes, snowboaders have their own winter wonderland to play in. Always wanted to try snowboarding, but don't have equipment? Rent it right onsite.
Tubing
Have a seat and hold on tight as you zip down a giant snow-covered slide. With pre-defined lanes, you can enjoy the feeling of whooshing down a mountain without the fear of falling. It's the same sense as sledding with the added benefit of an air-cushion beneath you.
Ice Skating
Wintertime or anytime, Ober has an indoor ice skating arena adults and kids love. At 140 feet by 75 feet, this rink is the centerpiece of the mall. Skate, grab some lunch at the Sidewalk Café, then visit the quaint shops in the enclosed mall.
Alpine Slide
This is bobsledding made simple! You control the speed as you race down the mountain swooshing, slicing and swishing to the bottom straightaway for a record-breaking finish!
Aerial Tram
Absolutely one of the best ways to see the mountain! For over 30 years, the Aerial Tram has ushered visitors from downtown Gatlinburg to the peak of Mt. Harrison and Ober Gatlinburg. Whether you want to visit Ober or just want an astonishing view, the Aerial Tram is perfect for vacationers, photographers, nature lovers and more.
Keep an eye on the weather and an ear toward the local news. Soon Yeti's Run will be open and ready for traffic. In the meantime, plan an Ober Gatlinburg getaway soon and enjoy some playtime in the snow.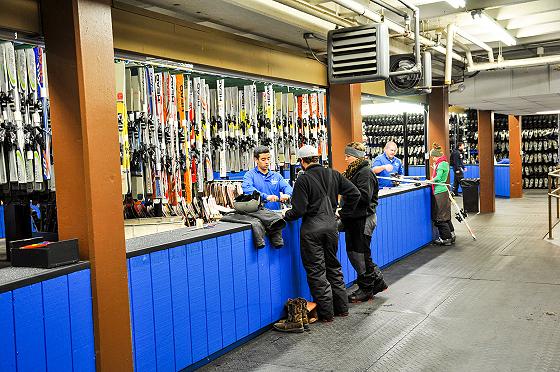 Other blog categories:
Gatlinburg Attractions Gatlinburg, TN Golf Courses Local Events National Park Pigeon Forge Attractions Pigeon Forge, TN Sevierville Attractions Sevierville, TN Smoky Mountains Things To Do