There's Something For Everyone to Do At Cades Cove
Posted by Darryl Payne in Smoky Mountains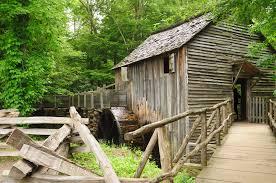 If you've ever been to Great Smoky Mountains National Park before, chances are you've visited, or at least heard of, Cades Cove, a preserved 19th century community that thrived in the mountains prior to the formation of the national park. Today, an 11-mile loop road takes visitors through this idyllic, storybook landscape, which is filled with mountain views, serene valleys, hiking trails and historic structures. Indeed, there's something for everyone.
First, you may want to decide exactly how to travel the loop. Most folks go by car, taking advantage of occasional roadside pull-offs to linger for longer views of the scenery. You can also rent bicycles at the outpost near the entrance to the campground. Some die-hard runners even take on the recently repaved loop road by foot.
History buffs will love all the preserved churches and homesteads that still stand along the route, serving as witnesses to the old rural lifestyles and folkways. One of the main stops, the Cable Mill Visitor Center, has a number of unique structures for you to tour, including a corn mill, a sorghum mill and a blacksmith shop.
If you're interested in nature, you'll see plenty of stunning sights as you travel the loop, but if you stop at the Abrams Falls trailhead, you can take off on a five-mile hike to one of the national park's most scenic broad waterfalls. There's also a nature trail near the visitor center, and back near the entrance to the loop, don't forget about the Cades Cove campground and picnic area, where you can enjoy the scenery for as little as an hour or as long as several days.
Other blog categories:
Gatlinburg Attractions Gatlinburg, TN Golf Courses Local Events National Park Outdoor Adventure Outdoor Things To Do Pigeon Forge Attractions Pigeon Forge, TN Places to Stay Sevierville Attractions Sevierville, TN Smoky Mountain Cabins Smoky Mountain Shows Smoky Mountains Things To Do