This municipal golf course in Sevierville, Tennessee was opened by the city for public use in 1994 and was formerly known as Eagles Landing Golf Club. The course benefits from its proximity to the Great Smoky Mountains, which provide majestic scenery for golfers.The course is adjacent to a major thoroughfare, U.S. Highway 66, the Wilderness Resort, and the Sevierville Events Center.
---
You should consider it a crime if you visit the Great Smoky Mountains this spring or summer and don't actually go into the Great Smoky Mountains. You'd be surprised how many folks see the sights in Gatlinburg, Pigeon Forge or Sevierville but don't go anywhere near Great Smoky Mountains National Park. Don't let yourself and your family become one of "those people."
---
Located in Dandridge, Tennessee-the state's second-oldest community-this golf course in the Smokies is one of the first built in the area and has since developed a reputation for providing an enjoyable golf experience for golfers of all experience levels. The original 18 holes work their way through valleys, hills and woodlands, and an additional nine holes were added in 1991. The Bermuda fairways and bent grass greens are a lush complement to the accompanying scenery, which includes the distant Great Smoky Mountains and nearby Douglas Lake. All 18-whole combinations are par 72 and range in distance from 4,900 yards to 6,100 yards.
---
If you're heading to the mountains on vacation this spring or summer, remember that there are a lot of cabins in Tennessee from which to choose. Price and location should always be factors, of course, but there are also several questions that you might want to ask the property management company or owner before signing on the dotted line. First, determine the immediate environment surrounding your cabin.
---
This Knoxville golf course is a city-run, public facility located in northeast Knox County, only a half-hour drive from Sevierville, Tennessee. Designed by Ault, Clark and Associates, the course features Bermuda tees and fairways, bent grass greens and a 63 strategically placed bunkers. The par-72, 7,035-yard course was once voted the best public course in East Tennessee. Amenities at Three Ridges Golf Course include PGA instruction, a driving range, putting green and chipping area, pro shop, dining facility with food and beverage service, an outdoor pavilion and both cart and club rentals.
---
Fortunately, Great Smoky Mountains National Park is open all year, but for those who plan to visit in winter, you might need to keep a few things in mind, whether you're planning to hit the hiking trails, camp or just do some general sightseeing.
---
Sometimes you just don't feel like making multiple choices. If you're planning a night out on the town during your Smokies vacation, you may not feel like wading through all the local dining options (especially if you have picky eaters in your group), and also finding a show that everyone wants to see. Several area theaters make things simple for you by offering shows with dinner as part of the evening's entertainment.
---
Those looking for a Knoxville golf course near the Great Smoky Mountains might consider Willow Creek Golf Club, located in West Knox County. The club's 18-hole championship course is open to the public and features Bermuda tees, fairways and roughs with bent grass greens. Measuring 6,959 yards from the longest tees, the course is a par-72, with a course rating of 73.5 and a slope rating of 124. Designed by Bill Oliphant and opened in 1988, the course also provides golf lessons and clinics, a full-service bar and grill, and a pro shop offering everything from merchandise to club repair.
---
As we head into the final week leading up to Halloween, we thought we'd pass along some ideas for celebrating the holidays in the Smokies and making sure that you have a spook-tacular time during your visit.
---
Area visitors have a unique chance to experience an event that showcases the culture and heritage of Appalachia. Robert Tino's annual Smoky Mountain Homecoming event runs Friday through Sunday, on the first weekend of October. Guests are given a chance to see, hear, and taste some of the things that give this region of the country its own special character.
---
Have you heard about Pigeon Forge's Egyptian attraction? Located at the Lumberjack Square development, it's called TOMB, a pyramid-themed adventure that lets families and groups team up to battle the curse of an ancient Egyptian pharaoh. The storyline has visitors getting "trapped" in the relics of an archaeological site, and mummies, daddies and kids must work together to overcome a series of ingenious challenges designed to thwart their escape. The interactive experience is designed to last about 45 minutes and along the way features dazzling special effects and excitement for all ages.
---
If you plan to visit Gatlinburg, Tennessee this summer, there's one name you may want to keep an eye out for. It won't be hard to find, because you'll see it pop up almost everywhere you go in town. The name? Ripley. As in Ripley's Aquarium of the Smokies, one of the most popular aquariums in the country.
---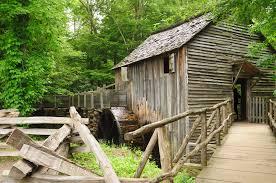 If you've ever been to Great Smoky Mountains National Park before, chances are you've visited, or at least heard of, Cades Cove, a preserved 19th century community that thrived in the mountains prior to the formation of the national park. Today, an 11-mile loop road takes visitors through this idyllic, storybook landscape, which is filled with mountain views, serene valleys, hiking trails and historic structures. Indeed, there's something for everyone.
---
It's finally getting warm enough to really take advantage of all the outdoor opportunities of springtime. One of the popular activities around East Tennessee is enjoying the region's network of TVA lakes and waterways. If you're in Sevier County on vacation, the most convenient site is Douglas Lake, which is accessible just a few miles off of Tenn. Hwy. 66 between Interstate 40 and downtown Sevierville, Tennessee.
---
Have you always dreamed of being a cowboy or cowgirl? Are you living the western life, but need a range to call your own? Giving closet wranglers and hardcore buckaroos a place to embrace the Wild West is what the annual Saddle Up! event in Pigeon Forge is all about. Mid February, marks the timing of Saddle Up! - which means the coordinators of the festival have some special guests lined up.
---